Front Desk Manager - ChiroOffice's automatic checkout is super fast!!!
ChiroOffice. Designed for rapid patient checkout and high-volume, multi-doctor applications making it the ideal for all offices, large or small. Find end to end business applications.
You see patients who are scheduled for the day, and those who have signed in at the front desk. To sign in a patient, simply click them to sign them in to the signed-in window. The patients are now back getting their therapies, and are being seen by the doctor.
ChiroOffice's automatic checkout system is extremely fast.Select the patient, and ChiroOffice confirms their next appointment. If there is no appointment set, ChiroOffice automatically takes you to the Appointment screen there to set the next appointment.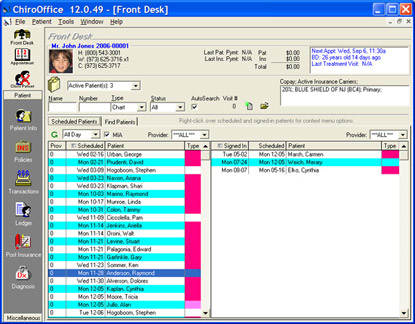 - Return to Top -
Appointment Scheduling
Here, at the ChiroOffice appointment window, we are ready to set the next appointment. The appointment window supports multiple doctors and multiple clinics, so it's easy to manage heavy appointment traffic and large volume clinics.
Of course, the appointment book is completely user definable. Set different available times, and define the number of available slots. This varies based on the individual doctors or clinics.
To set an appointment, select the date from the calendar. Select the time slot and you're finished. It's that easy.
Now, the automatic checkout proceeds to the transaction window.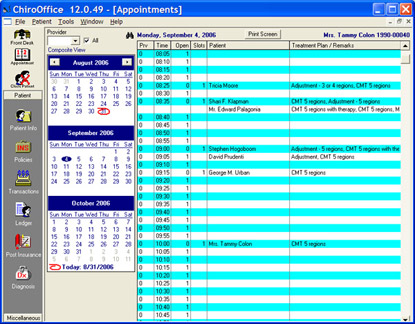 Patient Billing
Transaction Window
When you are using the automatic checkout, the transactions associated with the patient's treatment plan (or better yet, the transactions from the ChiroPad treatment plan) are automatically entered into the transaction window.
The co-pay is calculated based on the insurance coverage in effect at the time. The front desk simply enters the co-pay collected, if any. Click the save button (the picture of the diskette) and the patient is checked out! You can hand your patient the walk-away receipt with their services and appointment schedule.